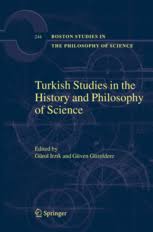 Turkish Studies in the History and Philosophy of Science
Gürol Irzık, Güven Güzeldere
Yayınevinden satın almak için tıklayınız.
The present book, which contains seventeen newly commissioned articles, aims to give a rich overview of the current state of research by Turkish philosophers and historians of science. Topics covered address issues in methodology, causation, and reduction, and include philosophy of logic and physics, philosophy of psychology and language, and Ottoman science studies. The book also contains un unpublished interview with Maria Reichenbach, Hans Reichenbach's wife, which sheds new light on Reichenbach's academic and personal life in Istanbul and at UCLA.
This volume is primarily intended for researchers in the philosophy and history of science. However, it should also be valuable to other philosophers working in fields such as epistemology, metaphysics, philosophy of mind, and philosophy of language, as well as to physicists, cognitive scientists and liguists interested in philosophical issues.
"Philosophy is alive and well in Turkey. This is a wonderful volume, chock-full of first-rate essay by Turkish philosophers and historians of science. Readers will also learn something about the early days of analytical philosophy in Turkey. The interview that Güven Güzeldere conducted with Maria Reichenbach and David Kaplan is a fascinating read. If, however, your department is fighting for more office space, keep the volume out of the hands of your university administrators. Maria Reichenbach reports: `Hans by the way shared an office with Bertrand Russell when he was at UCLA'." Brian McLaughlin, Professor and Chair, Philosophy Department, Rutgers University
Yılı: 2005
Yayınevi: Springer
ISBN: 978-90-481-6836-1
Sayfa Sayısı: 308
*Springer WEB Sitesi'nden alınmıştır.