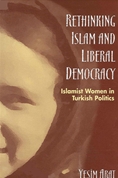 Rethinking Islam And Liberal Democracy: Islamist Women In Turkish Politics
Yeşim Arat
Yayınevinden satın almak için tıklayınız.
Examines the experiences of women activists of the Islamist Refah (Welfare) party in Turkey.
In Turkey, no secular party has approximated the high levels of membership and intense activism of women within the Islamist Refah (Welfare) Party. Rethinking Islam and Liberal Democracy examines the experiences of these women, who represented an unprecedented phenomenon within Turkish politics. Using in-depth interviews, Yeşim Arat reveals how the women of the party broadened the parameters of democratic participation and challenged preconceived notions of what Islam can entail in a secular democratic polity. The women of the party successfully mobilized large groups of allegedly apolitical women by crossing the boundaries between the social and the political, reaching them through personal networks cultivated in private spaces. The experiences of these women show the contentious relationship between liberal democracy and Islam, where liberalism that prioritizes the individual can transform, coexist, or remain in tension with Islam that prioritizes a communal identity legitimized by a sacred God.
"Arat's book is remarkable for its in-depth examination of the dynamics of women's participation in the [Welfare Party's] Islamist political networks, their reasons for being drawn to the movement and for becoming activists, the impact of their activism on their daily lives and relationships, and their aims and frustrations … Arat gives very detailed and fascinating information." — Contemporary Islam
"…this book is unique in that it provides an insight into the discourse and self-conceptualizations of a unique group of Islamist political activists … Arat provides a firsthand account of the lives, thoughts, and views of these women that goes far beyond the superficial and quite biased image that is attributed to them popularly by the secular media." — International Journal of Middle East Studies
"Along with its encompassing, detailed and well-crafted arguments, this book is a great contribution for students of gender, Islam and democracy and is recommended to anyone who is ready to take up fresh original research on women, Islam and politics and to hear the voices of Islamic women in Turkish politics." — International Feminist Journal of Politics
"…a welcome addition to the remarkably rich academic discourse on Islam in contemporary Turkey…" — Journal of Middle East Women's Studies
"Arat … is interested in what attracts Islamist women to active political participation, how they were recruited, how they recruit others, and what values they manifest." — Comparative Politics
"Rethinking Islam and Liberal Democracy is a very useful and informative book." — Perspectives on Politics
"This study is commendable for documenting a period of recent Turkish history, and for doing so from the point of view of the participants themselves." — Middle East Journal
"Rethinking Islam and Liberal Democracy is historically grounded, well researched, and smoothly argued. It is a welcome addition to the growing literature that goes beyond dichotomies of secular and religious women's activism and attempts to see how these currents cross-fertilize each other in multiple ways. I highly recommend it." — Afsaneh Najmabadi, author of Women with Mustaches and Men without Beards: Gender and Sexual Anxieties of Iranian Modernity
"This book stands apart in its balance and its attempt to understand how female Islamists see themselves, their religion, and the movement." — Beth Baron, author of Egypt as a Woman: Nationalism, Gender, and Politics
Yeşim Arat is Professor of Political Science and International Relations at Boğaziçi University, Istanbul. She is the author of The Patriarchal Paradox: Women Politicians in Turkey and the coeditor (with Barbara Laslett and Johanna Brenner) of Rethinking the Political: Gender, Resistance, and the State
Yılı: 2007
Yayınevi: State University of New York Press
ISBN: 978-0-7914-6466-3
Sayfa Sayısı: 160
*State University of New York PressWEB Sitesi'nden alınmıştır.